Find a Mortgage That Works for You.
Make your dream home a reality with an MCU mortgage—enjoy flexible loan terms, low-interest rates, and guided support from our team of expert Lending Sales Specialists.
Competitive Rates
Keep more money in your pocket while you work toward home ownership. MCU members enjoy low interest rates with all of our loan options, regardless of your preferred term length.
Easy Online Application & Management
You can apply for a Conventional Mortgage using MCU's easy online application. Making payments online is easy too with our suite of flexible, automatic payment tools.
Top-Tier Support
Our expert team of Lending Sales Specialists is here to help ensure that you have the resources you need to make informed financial decisions, every step of the way.
Mortgages
Dreaming of Owning A Home Since You Were A Kid?
We'll Waive Your Application and Commitment Fees (A $900 Value).*
For a Limited Time Only
*Application must be received between October 15, 2023-November 30, 2023. Closing must take place within 60 days after application is submitted. Fee waiver to be applied at closing as a lender credit. Apply by November 30, 2023. 60 day rate lock available for pre-approvals and full application. Make sure to use Promo Code: MTG2023 when completing your application.
We're Ready to Help You Get Past Any Homebuying Hurdles.
Whether you're just starting browsing for real estate in your area or have already picked out your dream home, MCU is ready to help you bring your goals to life.
Our team of Lending Sales Specialists is excited to help you find the right lending option for your unique needs, and ready to answer any questions that pop up along the way.
Saving for a 20% Down Payment? There's Another Option.
Say "goodbye" to hefty down payments! Private Mortgage Insurance (PMI) reduces your initial required down payment below the typical 20%, making it easier than ever to say "hello" to homeownership. MCU members may be eligible for an exclusive offer—we cover the monthly PMI costs for you!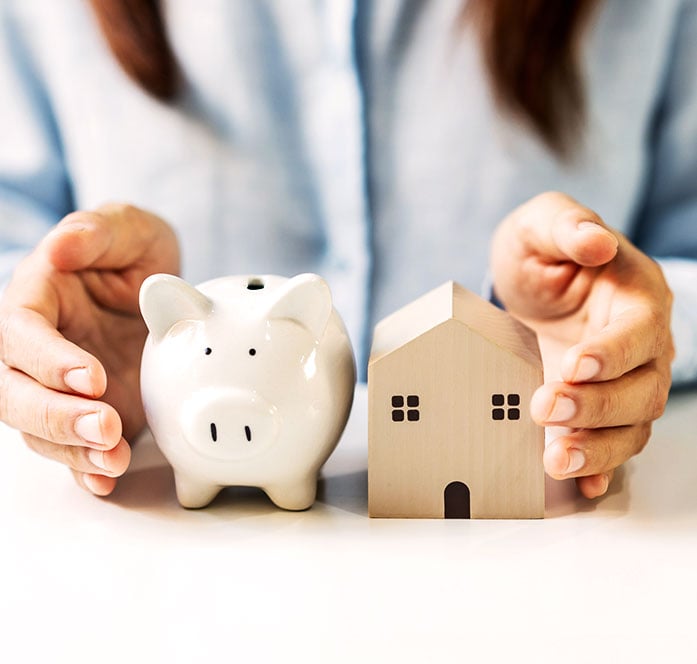 Competitive Fixed-Rate Mortgage Options
No matter the length of your investment, we offer competitive interest rates to support your goals and turn your dream house into a home.
Looking for a Different Type of Mortgage?
Finding the right mortgage can be challenging. That's why we offer our members a variety of mortgage options—all with member-friendly terms, competitive rates, and top-notch support.
Get Expert Support, When You Need It.
Connect with one of our Lending Sales Specialists to receive personalized support with all of your lending needs—just another perk of being a member of the MCU community.
Explore Additional MCU Lending Options.
We work hard to ensure that our community heroes get the financial support they deserve. Whether you're buying a home, a vehicle, or something else, MCU is here to help you along the way.
Make the Most of Your MCU Membership.
Membership in our community is about more than just banking. As an MCU member, you can access valuable information and resources to help you plan and reach your financial goals.
FAQs
Get Answers to Our Most Frequently Asked Questions.
Is there a cap on how much I can borrow with a conventional loan?
Yes. A conventional loan will allow you to purchase a home for up to $647,200 in most counties and up to $970,800 in high-cost counties.
What type of documentation do I need for a conventional loan?
When you're ready to apply for a conventional loan, it's a good idea to have these documents ready to go:
Tax returns

Pay stubs, W-2s or other proof of income

Bank statements and other assets

Credit history report

Gift letters

Photo ID

Renting history

Debt history
Can I only buy certain types of homes with a conventional loan?
You are not limited in the types of homes you can buy with a conventional loan. You can buy a single-family house, condo, apartment, etc—it's up to you!
What is the primary benefit of conventional loans?
The primary benefit of a conventional loan is its ability to reward borrowers with good-standing credit with a much lower interest rate throughout the loan term.
How much of the down payment do I need for a conventional loan?
You will find that the minimum down payment for a conventional loan is 3%. However, those with lower credit or higher debt-to-income ratios may be required to put down a more significant initial down payment.
Disclosure:
*APR = Annual Percentage Rate.
PAYMENT EXAMPLES DO NOT REFLECT AMOUNTS DUE FOR TAXES, HOMEOWNER'S INSURANCE AND PMI INSURANCE (PMI INSURANCE WILL BE REQUIRED IF YOU ARE BORROWING MORE THAN 80% OF THE APPRAISED VALUE OF THE PROPERTY). THEREFORE, YOUR ACTUAL PAYMENT OBLIGATIONS WILL BE HIGHER.
Above APRs are based on loan amounts of $280,000. Above rates are applicable to loans secured by a 1-2 Family home which is the principal residence of the borrower(s). Different rates may apply for loans secured by Co-ops, Second/Vacation homes and 3-4 Family homes. Rates may be higher based on applicant's creditworthiness. Rates and terms are subject to change without notice. Certain restrictions may apply. For more details, see our Rates page.