Find Your New Ride in Three Easy Steps.
Spare time is a luxury. Let us help handle the hassle of the car-buying process so you can spend more time doing what you love. Get approval for financing quickly, browse our selection of new and used vehicles, and purchase your dream car with guaranteed savings—all in three easy steps.
Get Pre-Approved.
We're ready to get you on the road! Members enjoy pre-arranged, no-hassle financing.
Research & Compare Prices.
Take the guesswork out of comparison shopping. With the TrueCar® search, you can see what others paid for the car you want to make sure you get the best deal.
Buy with Confidence.
After finding your top pick, head on over to the certified dealership with your guaranteed savings certificate. Take it for a test drive to make sure you've found the one, with no obligation to purchase.
The Car Buying Service for the City That Never Sleeps
Your days are jam-packed enough without making time for the car buying process. With the MCU Car Buying Service*—powered by TrueCar®—you can find your perfect car anytime, day or night.
Easy Loan Application Process
Members enjoy pre-approval for auto loans with great terms and low interest rates. Know the value of your loan right away.
Enjoy Member Savings
Explore potential savings off the manufacturer's suggested retail price (MSRP) on new vehicles.
Browse with Confidence
Whether you're looking for a new or used car, MCU Car Buying Service lets you see what others paid—so you don't have to worry about being overcharged.
Protection for the Long Haul
We're partnering with TruStage® to bring you straightforward and reliable auto insurance.

Banking That's Always by Your Side
Make managing and paying your auto loan a breeze with digital banking tools like Bill Pay. Access the information you need, when you need it with our easy-to-navigate digital banking platform. Discover helpful tools and settings that make banking smarter, not harder.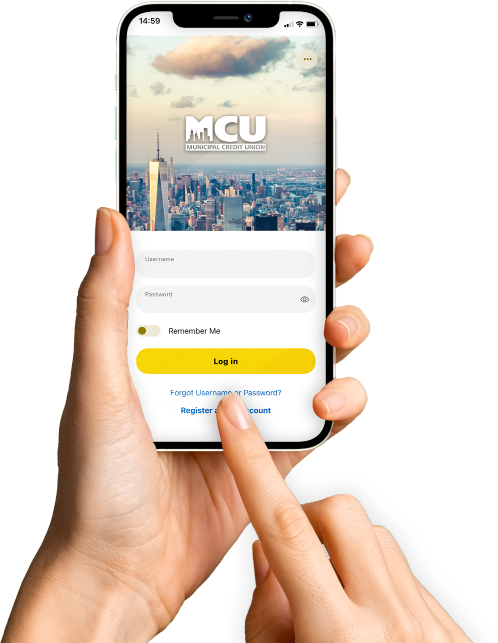 Have Other Financial Needs? We're Here to Help.
Get financial education and support you can trust from experts in your own community. Let's work together to connect you to the resources you need. Enjoy excellent rates, exceptional service, and access to our team of experts to set you up for financial success.

No Matter Where You Are in Life, We're Right There with You.
At MCU, we believe that a credit union should be a lifelong source of financial education and support—from planning for college to saving for retirement and everything in between.
That's why we have specialized recommendations for products and services designed to help you meet your goals (both short-term and down the road), based on your changing needs and priorities.



Need More Resources? We're Here to Help.
Finding information to make the right financial decisions can be overwhelming. Explore our helpful resources below, designed to help heroes like you make smart, informed choices.
FAQs
Got Questions? We've Got You Covered.
Why does pre-approval matter?
Getting pre-approved for an auto loan shows you the amount that you're approved for before you go in to purchase a new vehicle, helping you set a manageable budget for your new car purchase. Having this information beforehand empowers you to make smart spending decisions while at a car dealership.
What is GAP coverage?
Guaranteed Asset Protection (GAP) insurance coverage protects your spending responsibility if your car is totaled or stolen. GAP coverage helps cover the difference between the current value of your car and what you still owe with your original loan agreement.
Is there a fee for using the MCU Car Buying Service?
As part of our partnership with TrueCar®, there is no fee for utilizing the car buying service.
What is MSRP?
MSRP stands for Manufacturer's Suggested Retail Price. It is the price that the specific car manufacturer recommends the vehicle should be sold for. While this price does influence the final cost of the car, depending on certain scenarios the price may end up being higher or lower than this recommended amount.
Disclosures:
* MCU Car Buying Service is provided by TRUECar. MCU is not responsible for, nor makes any representations or warranties as to, TRUECar's products and services, its claims or its website content. TRUECar operates its program and information website (which features pricing performance, technical and safety data available for new and used vehicles) totally independent of MCU. Also, each certified dealer sets its own pricing and will confirm actual vehicle availability from in-stock inventory. Finally, please be aware that TRUECar's website may have privacy and information security policies that are different from those of MCU. MCU disclaims any responsibility for the content and accessibility of the third party website you are about to access. MCU does not have the ability nor any right to change or affect the content and accessibility of the third party website you are about to access.