The MCU Difference: Loans for Family Homes, Co-Ops, and Condos
Not all home types qualify for conventional mortgages. If you've found your dream home in a co-op, condo, or other home type, our flexible mortgage options give you the lending capabilities to secure it. Together, we'll find a mortgage that's right for you.

Competitive Rates
Keep more money in your pocket while you work toward home ownership. Qualified MCU members can secure their new home more easily with our low interest rates and flexible terms.

Accessible Member Support
Our expert team of Lending Sales Specialists is here to help ensure that you have the resources you need to make informed financial decisions, every step of the way.

Options For Every Lending Need
We offer a wide variety of loan products—Conventional, Jumbo, and High-Balance, to name a few. Together, we'll help you find the loan option that best suits your needs.
Get Personalized Mortgage Assistance from our Team of Experts.
The mortgage process can be overwhelming, especially for first time buyers. Regardless of your experience level, our Lending Sales Specialists are here to help you make the best mortgage decision for your future.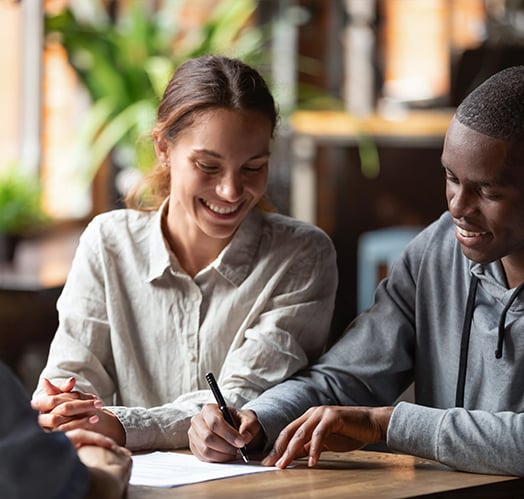 Get Expert Support, When You Need It.
Connect with one of our Lending Sales Specialists to receive personalized support with all of your lending needs—just another perk of being a member of the MCU community.
Explore Additional MCU Lending Options.
We work hard to ensure that our community heroes get the financial support they deserve. Whether you're buying a home, a vehicle, or something else, MCU is here to help you along the way.
Make the Most of Your MCU Membership.
Membership in our community is about more than just banking. As an MCU member, you can access valuable information and resources to help you plan and reach your financial goals.
FAQs
Get Answers to Our Frequently Asked Questions.
Is there someone that can help me with questions I have?
Yes! Our team is here to help you in any way we can. Feel free to connect with one of our knowledgeable MCU Lending Sales Specialists to get your questions answered today. Call: 212-238-3521.
How will a mortgage affect my credit score?
Getting a mortgage can be a benefit to your credit score in the long term!
Your credit score might dip when you initially take out your mortgage, but mortgages can improve your 'credit mix' and add to your credit history. Both of these will improve your credit score over time—something you likely won't get when paying rent or a lease.
What happens if I want to move before I finish paying off my loan?
If you move before paying off your loan entirely, you are responsible for paying the loan in full at the time of the sale of your property.
Is it better to have a short or long term mortgage plan?
The answer to this question is entirely dependent on your financial situation. When thinking long-term, it is apparent that you will save more on the interest incurred over a shorter, 15-year mortgage than you would with a 30-year one. However, your payment for a 15-year mortgage will typically be higher and therefore depends on your ability to pay an increased monthly mortgage.