Get Low Rates on High-Value Homes.
A Jumbo Mortgage lets you go above and beyond typical loan limitations, with increased limits of up to $1 million for qualified borrowers. Get the most out of your mortgage with a Jumbo Loan from MCU.

Increased Opportunity
Higher loan limits open the door to higher-valued properties that would be otherwise out of reach with conforming loans (like a Conventional Mortgage).

Easy Online Application & Management
You can apply for a Jumbo Mortgage using MCU's easy online application. Making payments online is easy too with our suite of flexible, automatic payment tools.

Top-Tier Support
Our expert team of Lending Sales Specialists is here to help ensure that you have the resources you need to make informed financial decisions, every step of the way.
We're Ready to Help You Get Past Any Homebuying Hurdles.
Whether you're just starting browsing for real estate in your area or have already picked out your dream home, MCU is ready to help you bring your goals to life.
Our team of Lending Sales Specialists is excited to help you find the right lending option for your unique needs, and ready to answer any questions that pop up along the way.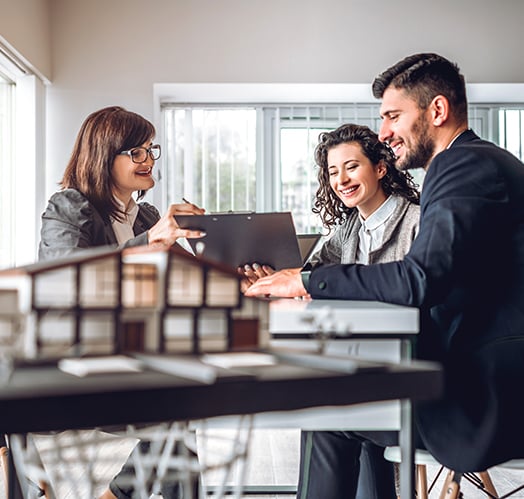 Experience the Security of a Fixed-Rate Jumbo Mortgage.
Enjoy the protection and peace of mind of knowing that your mortgage rate will remain the same for the duration of your loan.
Looking for a Different Type of Mortgage?
Finding the right mortgage can be challenging. That's why we offer our members a variety of mortgage options—all with member-friendly terms, competitive rates, and top-notch support.

Get Expert Support, When You Need It.
Connect with one of our Lending Sales Specialists to receive personalized support with all of your lending needs—just another perk of being a member of the MCU community.
Explore Additional MCU Lending Options.
We work hard to ensure that our community heroes get the financial support they deserve. Whether you're buying a home, a vehicle, or something else, MCU is here to help you along the way.
Make the Most of Your MCU Membership.
Membership in our community is about more than just banking. As an MCU member, you can access valuable information and resources to help you plan and reach your financial goals.
FAQs
Get Answers to Our Frequently Asked Questions.
Do Jumbo Mortgages need to be a 30-year fixed rate loan?
No, Jumbo Mortgages do not have to be a 30-year loan, and come in various term lengths depending on your specific needs.
Do Jumbo Mortgages have affordable interest rates?
A common misconception about Jumbo Mortgages is that the interest rate will be dramatically higher than a conventional loan due to the high cost of the home. However, Jumbo Mortgages have very competitive interest rates, and in some cases, may be even lower than a traditional conventional mortgage.
What is the limit of the loan?
You may borrow up to $970,800 for a Jumbo Mortgage for a single-family home in high-cost living areas.
Is it hard to qualify for Jumbo Mortgage?
Because Jumbo Mortgages are reserved for higher-cost homes that fall above the federal loan limit, it is typically more difficult to qualify than a conventional loan. However, Jumbo Mortgages offer competitive interest rates and allow borrowers to set down roots in high-cost areas.
Disclosure:
*APR = Annual Percentage Rate.
Above APRs are based on loan amounts of $680,000. Above rates are applicable to loans secured by a 1-2 Family home which is the principal residence of the borrower(s). Different rates may apply for loans secured by Co-ops, Second/Vacation homes and 3-4 Family homes. Rates may be higher based on applicant's creditworthiness. Rates and terms are subject to change without notice. Certain restrictions may apply. For more details, see our Rates page.